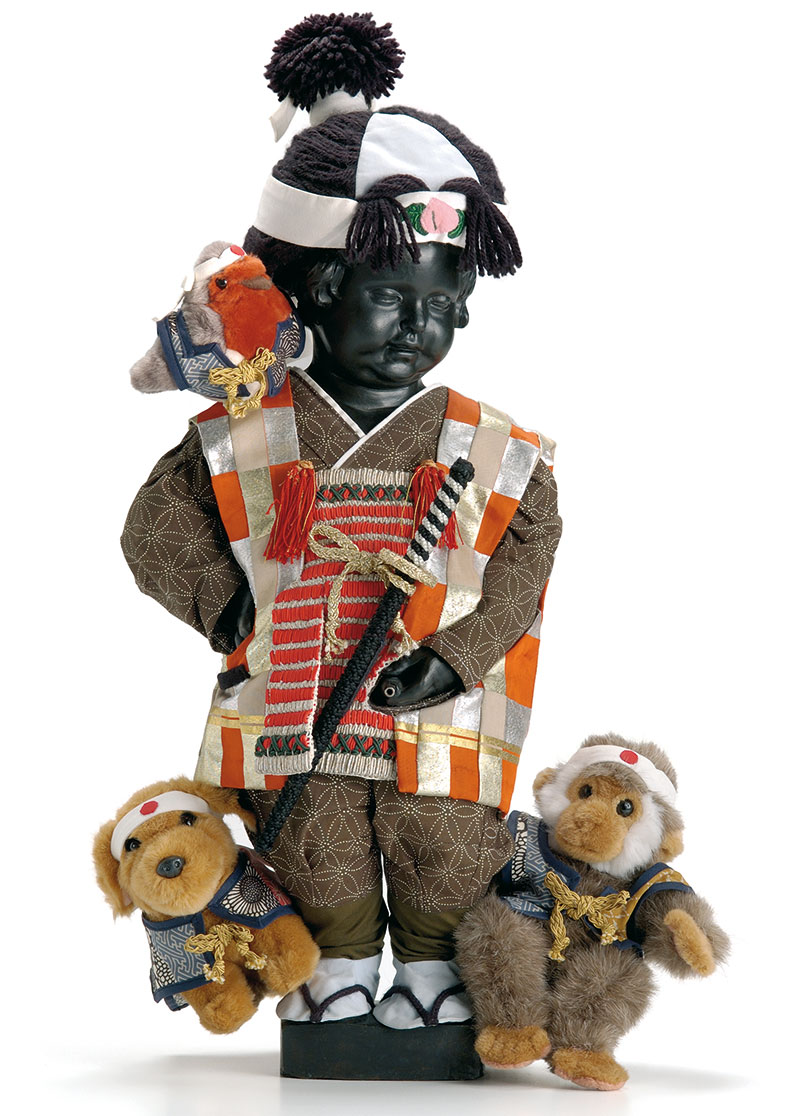 Momotaro robe presented to Manneken-Pis in 1995
A tribute to the inhabitants of Brussels
Presenting the Manneken-Pis with a costume has become the accepted way to pay tribute to the inhabitants of Brussels, who have made the little character their mascot. Initially a local custom, the practice has become a far more international affair since the 20th century, as demonstrated by this robe produced on the initiative of a group of Japanese expats in Belgium. Today, Manneken-Pis owns almost a thousand costumes from all around the globe. His fame is such that, each year, a number of countries, regions, towns or associations apply to present him with an item of clothing that is typical of their identity or their traditions. The communal authority of Brussels selects the donors, who receive a template enabling them to tailor the costume to the right measurements. And, once the day of the official presentation finally arrives, the statuette proudly sports its new finery.
A familiar legend to young Japanese children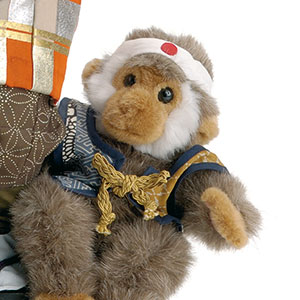 It is no surprise that the offer to produce a costume by Momotaro was chosen, as the story of this little boy is very popular with Japanese children. Legend has it that Momotaro succeeded in conquering terrible demons with the aid of a dog, a monkey and a pheasant. This explains why he has three furry animals at his side.
A very ancient tradition
The tradition of dressing up Manneken-Pis on certain big occasions dates back several centuries. It was first recorded in 1615: the little character appears dressed as a shepherd during a procession organised in honour of the Archduchess Isabelle, who was the ruler of our regions at that time. This custom was doubtless inspired by the common practice since the Middle Ages of dressing up statues of the Virgin, Jesus and the saints. However, it is unusual that it was applied in this case to a statue without any religious connotations. The only apparent explanation for this honour is the very special place that Manneken-Pis was starting to acquire at that time in the heart of the people of Brussels.
A wardrobe open to the public
All of Manneken-Pis' costumes are cared for by the museum. A selection from this extraordinary wardrobe is on display in a building situated close to the fountain, at the top of rue du Chêne. A visit is not to be missed: admission is included in your entrance ticket.
Next step
Go back to the landing on this floor and enter the large temporary exhibition hall. Don't forget to take a look at the impressive neo-Gothic ceiling in the shape of an overturned ship's hold.