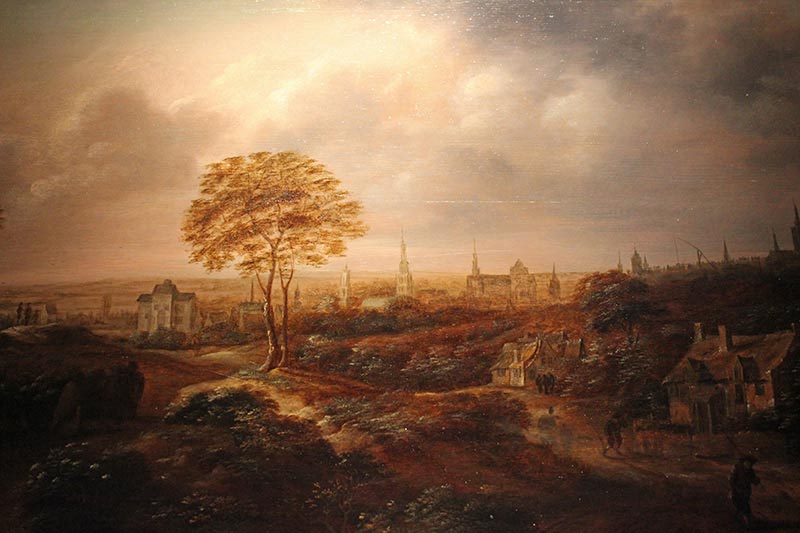 Oil painting. Gillis Rombouts. Circa 1655-1660
Painted by the Dutchman Gillis Rombouts (1630-1678), this tiny painting shows a panoramic view of the city of Brussels seen from the south. The city's profile is seen emerging between a bucolic foreground and a heavily overcast sky.
A view covering the upper and lower parts of the city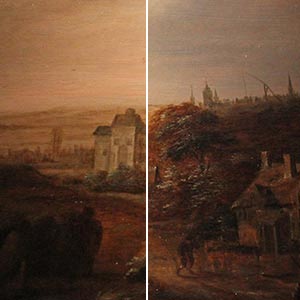 The view is seen from the hamlet of Obbrussel (which is now the municipality of St-Gilles). This perspective is quite unique as most works at that time preferred to show Brussels from the heights of Molenbeek village to the west. The perspective chosen here helps to highlight Brussels' steeped terrain. On the left, the lower part of the city occupies the Senne River valley, while on the right the horizon rises slowly towards the upper part of the city up on the hills.
Towers and spires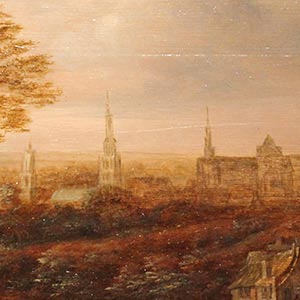 The barely outlined city is defined by the silhouettes of several of its symbolic buildings. The Town Hall is easy to distinguish in the centre. On the right of this structure is the Chapel church, to the left of which stands the tower of St. Nicholas church. Further along on the left stands a Gate, the Porte d'Obbrussel, also known the Porte de Hal, one of the seven fortified entrances through the ramparts around the city.
Landscape art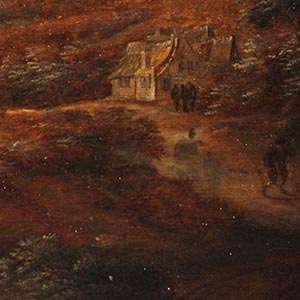 The path leading to the Gate is strewn with hovels. People are seen in the foreground: a man carrying his bundle, a women close to a small house, bent over her washing tub. A sky filled with threatening clouds looms over the city. Rather than seeking to faithfully reflect reality, Gillis Rombouts is trying to conjure up an atmosphere in which the city of Brussels acts as the backdrop. The idea of creating a monochrome effect was quite fashionable at the time. Nobody knows if the Dutch painter actually visited Brussels to complete the work or whether he made do with reproducing this urban panorama on the basis of engravings or sketches that were circulating in artistic circles. In any event, he very likely invented the items featured in the foreground.
Next step
Now enter the next room which presents an exceptional collection of pottery and head to the display case at the back on the left. Here you will find a blue and white plate. Look at the top surface as well as underneath.